Last August 2020, the Philippine Center for Environmental Protection and Sustainable Development, Inc. (PCEPSDI), through the Transforming Tourism Value Chains (TVC) project, hosted its first successful online training for tourism stakeholders, the Food Safety & Food Waste Management Training for the Hospitality Sector  dated on 24th-25th and 27th-28th. The TVC project, which is continuously welcoming and providing technical support to new partners from the hotel and MICE sectors, is guided by the Roadmap for Low-Carbon and Resource-Efficient Tourism in the Philippines. The Roadmap proposes four systemic solutions for sustainable tourism, namely: sustainable food value chains, sustainable events, waste reduction and management, and sustainable energy. This training, the first in a series, supports the implementation of sustainable food value chains in the industry by promoting widespread adoption of food waste monitoring and reduction, as well as reviewing cooking and storage practices in kitchens. 
In partnership with and guidance from The Sustainable Diner project of the World Wide Fund for Nature – Philippines (WWF-PH), the training aimed to increase stakeholders' familiarity with food safety and hygiene practices in the kitchen, which is especially relevant in today's COVID-19 new normal, and at the same time for them to minimize food waste in daily operations. The two batches of training were attended by several food & beverage representatives from the hotel and MICE sectors, such as hygienists and safety officers, servers and executive chefs, and hotel and restaurant managers . 
The training was supported by representatives from the Department of Tourism (DOT), with Assistant Secretary Rica Bueno, from the Tourism Regulation Coordination & Resource Generation, stating that "…as we open our borders and our doors to our local and foreign tourists once again, we want them to gain and restore that confidence that we are doing everything to contain the spread of this virus." Director Virgilio Maguigad, from the Office of Tourism Standards and Regulation, also stated that "It [makes] good business sense for hotels and restaurants to be able to minimize food waste… [and] ensure that experiences for visitors and customers in the Philippines would be of the highest standards". 
Reducing risks of food borne illnesses and improving the nutritional status of consumers can contribute to achieving food security, a crucial issue during the COVID-19 pandemic. According to the World Food Summit, "food security exists when all people, at all times, have physical and economic access to sufficient, safe and nutritious food that meets their dietary needs and food preferences for an active and healthy life." The first day of the training sought to impart these principles of food safety. Ms. Iris Abrigo, the Sustainable Business Officer for The Sustainable Diner project, gave an overview of COVID-19 and its transmission, its impacts on food, and principles of proper food handling. "[As] the prime entity responsible to produce safe and quality food, we, as food business operators, are expected to deliver food that will not cause harm," Ms. Abrigo states.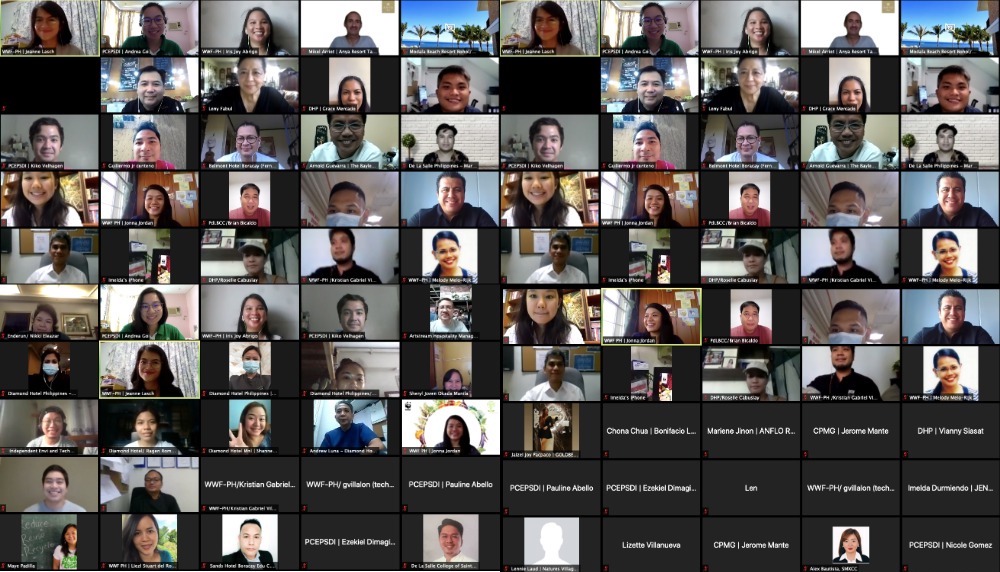 Group photo of Food Waste Management Training
For the second day of the training, Ms. Alexa Jeanne Lasch, Sustainable Business Specialist from WWF's The Sustainable Diner project, conducted the Food Waste segment by discussing agriculture and the foodservice industry's environmental impacts, and the interrelationships between climate change, food waste and hunger. One-third of the world's food production still goes to waste despite the increasing number of people experiencing involuntary hunger. In addition, the food waste rotting in landfills contributes to additional greenhouse gases that speed up climate change. "The number one priority is to reduce [food waste] at the source, then donate what is not preventable and divert everything that remains." Ms. Lasch discusses how having a food waste management system and pursuing food waste reduction strategies can help minimize the waste being generated by establishments, and therefore their carbon footprint. 
For more information about this training, or any interest in partnering with the TVC project, kindly email TVC's Project Officer Mr. Kiko Velhagen at tvc4relcd@gmail.com or kiko.velhagen@pcepsdi.org.ph.