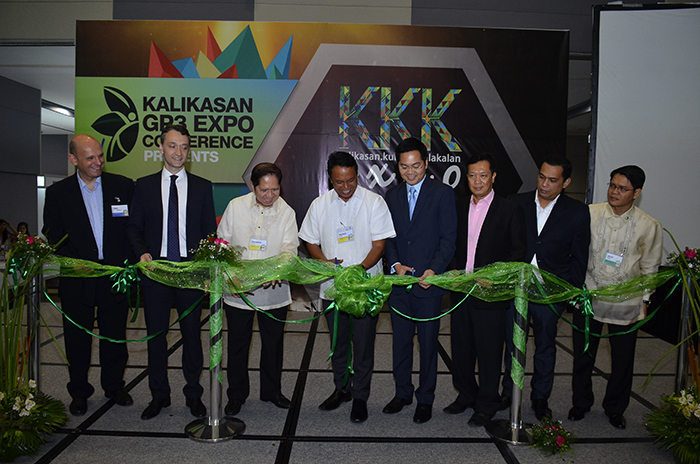 July 23, 2015
Green Productivity. Green Purchasing. Green Philippines. The mantra of the GP3 Movement goes beyond mere words to action when the Kalikasan GP3 Expo Conference happened last July 23 – 25 at the SMX Convention Center Taguig, SM Aura Bonifacio Global City. Convening environmental and sustainabil...
Read More
July 23, 2015
Ritzi Ronquillo of Holcim Philippines (third from left) together with (Left to Right) Mr. Albert Magalang of Climate Change Office, Atty. Ann Claire Cabochan of DTI-Bureau of Philippine Standards, Sec. J.R. Nereus Acosta,PhD of Office of Presidential Adviser of Environmental Protection and Laguna La...
Read More
July 21, 2015
After more than 20 years of advocating for the passage of the Sustainable Forestry Management Act in Congress to no avail, the Forestry Management Bureau (FMB), a unit of the Department of Environment and Natural Resources (DENR), is pushing with urgency the signing of an Executive Order that would ...
Read More
July 13, 2015
Mr. Mark Tan, President of PalmEco Tech. Ltd (3rd from left) receives the Green Choice Seal of Approval together with Atty. Cabochain of DTI-BPS (1st from Left), Mr. Albert Magalang of Climate Change Commission (2nd from left) and Mr. June Alvarez of the Philippine Center for Environmental Protectio...
Read More
October 17, 2014
The Mutual Recognition Agreement between then National Ecolabelling Programme-Green Choice Philippines and the Taiwan Green Building Material Label has been sealed on October 17 2014 held at Taipei, Taiwan represented by the Philippine Center for Environmental Protection and Sustainable Devel...
Read More
July 25, 2014
The youth is the key to a sustainable future. On July 25, two hundred twenty-two (222) youth from seven (7) universities gathered for the Rethink: What on Earth Are You Doing Symposium held at the Thomas Aquinas Research Complex Auditorium. This event aims to encourage the youth to rethink their imp...
Read More
January 13, 2012
In a historic display of institutional unity and power, government agencies each represented by their officials joined hands and led another inter-institutional environmental initiative in signing a Memorandum of Understanding (MOU) for the "Pilot Project for the Implementation of Green Public...
Read More
March 12, 2011
The country's health and food safety experts as well as environmental policy planners assembled at the "Greening the Food Services Forum-Workshop" last March 10, 2011 at the Kabalikat Conference Hall, DENR Building, Quezon City. The forum-workshop was organized by the Philippine Ce...
Read More
April 21, 2010
As part of the Earth Day Celebration and the worldwide effort to educate people on the environmental value of Green Business and Ecolabeling, Sta. Rosa- and Binan-based business establishment owners and company officials attended "Green Business and Ecolabeling Seminar", organized by the...
Read More