PCEPSDI joins APO Workshop in capacitating its members on Ecolabelling
April 2014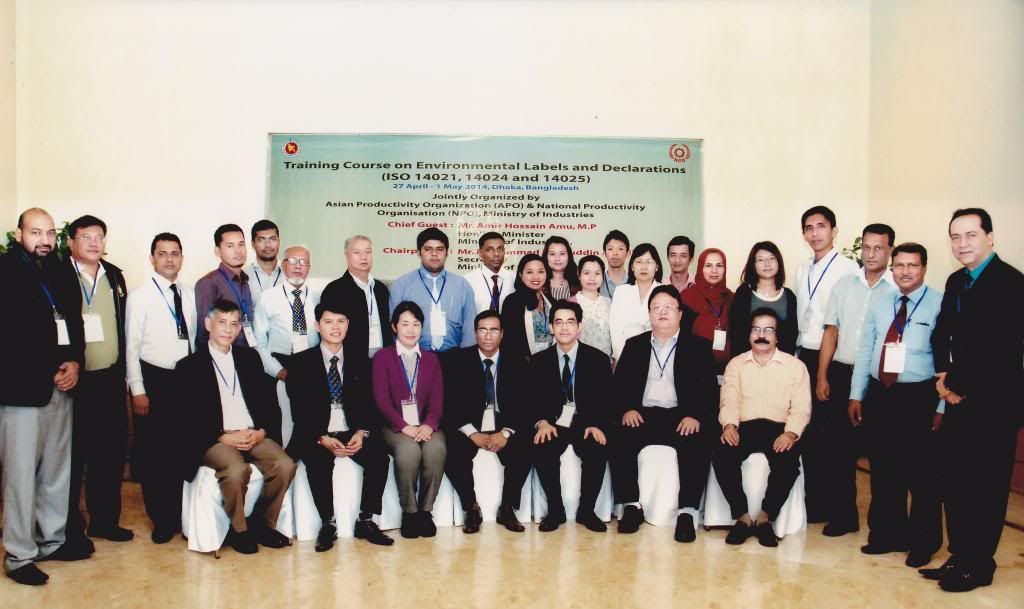 Recognizing the need to capacitate the member countries of Asian Productivity Organization (APO) in terms of the development of National eco-labeling schemes, the APO conducted a Training Course on Environmental Labels and Declarations from April 27 to May 1 2014 at Dhaka Bangladesh. Some 18 country representatives from Cambodia, Chinese-Taipei, Iran, Indonesia, Japan, Mongolia, Pakistan, Philippines, Sri Lanka, Thailand, and Vietnam attended the intensive training-workshop.
The training modules were composed of the basic knowledge of environmental labels and declarations; characteristic and principles of ISO14021, ISO 14024, and ISO 14025; and case studies about success factors in developing and managing eco-labeling schemes the events.
Facilitating the workshop is PCEPSDI Executive Director June Alvarez, a designated APO chief expert on environmental labels and declaration. Other speakers present in the 5-day training are Dr. Chaiyod Bunyagidj, the technical Advisor of the United Analyst and Engineering (UAE) Consultant Company Limited in Thailand; Mr. Chin-yuan Chen of the Environment and Development Foundation (EDF), and Ms. Negishi Hanako of the Japan Environmental Management Association for Industry (JEMAI) and a member of APO Eco-products Database Working Group.
To assist the participants in the preparation of their respective action plans on the development of ecolabelling schemes, the resource speakers have provided valuable inputs on Sustainable Consumption and Production (SCP) concepts and principles and environmental labels and declaration, and case studies on the development of ecolabelling scheme in the Philippines, Republic of China, and Japan. Furthermore, to better equip the participants in the said creation of action plans, an exercise on Environmental Audit on plastic hangers has been conducted at Bengal Plastic Company, Bengal Group.
This event has been organized by APO, the National Productivity Organization (NPO) and the Ministry of Industries of Bangladesh.