PCEPSDI attends Regional Workshop on SPP and Harmonization of Ecolabels in Bangkok
May 2014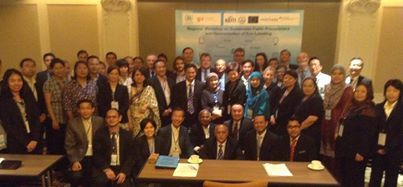 In order to share knowledge, know-how and best practices on SPP and Ecolabelling experienced by countries, the United Nations Environment Programme (UNEP), in cooperation with GIZ Thailand' sSCP4LCE Project has conducted the "Regional Workshop on Sustainable Public Procurement and Harmonization of Eco-labelling" held last May 21-22, 2014 in Bangkok, Thailand. The activity also served as the venue for UNEP to present its study results on regional collaboration for SPP and Ecolabelling.
With over 55 representatives from various ASEAN, Middle East and European countries, as well as those from China, Korea and Japan, the workshop gave promising results for the harmonization of ecolabels in the ASEAN region for two selected products – fluorescent lamp and printers. In addition, policies and technical recommendations were presented by participants in order to achieve successful collaboration at sub-regional and regional levels.
Representing PCEPSDI is Rodora Catibog, Programme Manager for Green Procurement where she was invited to share the status of the Ecolabelling and GPP Programmes of the Philippines in one of the panel discussions in the workshop.
Professor Anthony Thiu of the De La Salle University, a NELP-GCP consultant, and also the immediate past Chairman of the Asia Pacific Roundtable for SCP, moderated one of the parallel sessions during the workshop.