PIEEP Conducts Series of Appreciation Workshop on EnMS
September 2014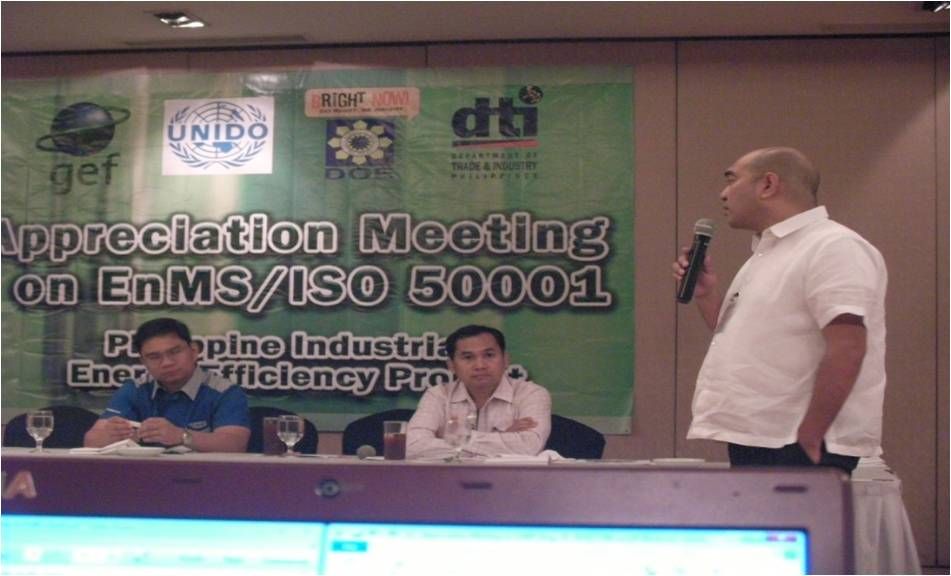 The Philippine Industrial Energy Efficiency Project with technical assistance from the United Nations Industrial Development Organization( UNIDO), Global Environment Facility (GEF) and in cooperation with the Department of Trade and Industry (DTI), and the Department of Energy conducted a series of workshop on August 19, 29 and September 10, 2014 to encourage industrial companies to implement an energy management system based on ISO 50001.

Present in these three workshops are top level management, consulting agencies, and the local energy management system experts who have been trained in the first batch of the PIEEP Expertsí Training on EnMS. The workshop has been a venue for companies to consult with the participating certification agencies namely SGS, TUV Rheinland, TUV-SUD, and AJA. Key discussions revolved on how companies can start their respective Energy Management System starting from low hanging fruits where profit is possible vis a vis energy management even with zero investment. One of the featured energy management best practices is the EnMS of the Manila Water Company, Inc.

One of the participants of the workshop reported that In setting up an Energy Management System small changes can make a significant impact to the industry, existing practices in the industrial plants can be already in line w/ EnMS, the thing is, these has to be enriched and communicated.

Prior to the series of Appreciation Workshop, a series of policy workshop, Executive Awareness Workshops, Industrial Users Trainings, and Experts Trainings has been conducted in line with the promotion of energy management in the industry sector . The Philippine Center for Environmental Protection and Sustainable Development Inc. together with the Development Academy of the Philippines acted as Event Managers for these 13 capacity building activities.